Marx Toys in Moundsville To Be Featured on 'American Pickers' TV Series
MOUNDSVILLE — A local collector who turned his love of old toys into a popular museum will be featured in an upcoming episode of A&E's "American Pickers."
Show co-hosts Mike Wolfe and Frank Fritz visited Moundsville's now-closed Marx Toy Museum in May to film for an episode of the show set to air at 9 p.m. Nov. 13.
As part of the upcoming episode, Francis Turner, toy collector and former curator of the Marx Toy Museum, will showcase his collection, which centers around local history.
Turner grew up in Preston County in a small area called Birds Creek, near Kingwood, and said he fondly remembers receiving a toy missile launcher as a child and searching his father's garbage truck for toys.
In 1998, Turner purchased a 1950s grocery store building on Second Street in Moundsville and spent the next two years remodeling the building. In 2011, Turner registered the museum as a nonprofit organization complete with a board of directors. The museum honored the old Marx company, which operated in Glen Dale from 1919 to the 1980s.
According to Turner, one of the most memorable toys from the Glen Dale factory was the Marx Big Wheel. During its prime, the factory ran three assembly lines, with each line making about 1,000 Big Wheels per shift — a total of 9,000 per day. In addition to the Big Wheel, some other popular Marx toys included the Green Machine, the Johnny West series and Rock 'Em Sock 'Em Robots.
Turner said the American Pickers hosts visited the museum in May, arriving in their signature van with a small staff after he gave them a call when he heard about their stop in West Virginia. "I've done a lot of hard work to promote the Marx name and keep it alive," Turner said. "Hopefully this will bring a focus to the valley, which was the heart of the Marx Toy Company." Turner added although the Moundsville museum closed in 2016, his mission continues. "I continue to buy and sell Marx toys and I have a project underway which will continue to preserve the history of Marx," he said.
Frank Turner's son, Jason Turner, said Marx Toys are a crucial part of their family dynamic. "Marx Toys has been a big part of my family and our relationship, and we've had a lot of fun over the years collecting and operating the museum," Jason Turner said. "I think the American Pickers episode will get people talking about Marx again. Sometimes after companies close, they get forgotten. We want to bring Marx back into conversations and get people to remember those iconic toys of the '50s, '60s and '70s."
Marx Toy Museum (Closed)
Rock'em Sock'em Robots and the Big Wheel were gifts to the world from Louis Marx, guiding genius of the Marx Toy Company. Both have positions of honor in the Marx Toy Museum, yet the joy of visiting this place isn't in the familiar and classic playthings — although they are fun to see — but in the extremes, a natural byproduct of a company whose total toy output reached into the billions over a 60-year span before it went bankrupt in 1980.
"During the Cuban Missile Crisis, Marx made a dollhouse with a fallout shelter. That's pretty hard to find," said Francis Turner, owner of the museum. Francis himself is unusual; the museum is his private collection, but his passion for Marx Toys didn't develop until he was well into his thirties. "I don't remember none of these from when I was a kid," he said of the thousands of toys that fill his museum. "I grew up in the boonies; we was poor as dirt." By way of example, Francis points to the Electra-Matic Marx Mobile, a battery-powered minicar that sold for $25 in 1959. That same year, said Francis, he and his dad rode a bus to Wheeling to buy a real used car — for 10 bucks.
Louis Marx was a pioneer of the lovingly detailed, 2.5-inch plastic figurine, ancestors of a race that would later populate the top of every computer nerd's desktop monitor. Francis has dozens of rarities, from the original carving of the dead German that appeared in all Marx World War II play sets, to the plastic naked girl that Marx would hand out to his friends. A tiny figurine of gun-toting Mark McCain, young son of Chuck Connors in The Rifleman, is actually worth more than its weight in gold, according to Francis. Beyond price are the figurines that Louis Marx made of himself, dressed as dictators such as Chairman Mao, Napoleon, and Genghis Kahn. The museum displays them next to the gold-plated Tiffany cigar ashtray given to Marx by Chase Bank for his 50 years as a customer.
Marx Toys were barometers of their time, and playthings such as the Campus Cuties, Alabama Coon Jigger, and Nutty Mad Indian catered to popular tastes, while the Atomic Cannon shot a solid plastic bomb sixty feet.
"You couldn't sell that toy nowadays," said Francis of the cannon. "Too dangerous. It would be illegal." By the mid-1960s Marx was making a Moon Base in psychedelic colors, and creatures such as Big Loo (a robot that squirted water from its navel) and Garloo the Giant Monster, a green space alien that wore sandals and a leopard-skin loincloth and terrorized many a kid sister.
Francis has a Big Loo factory-sealed big box; he bought it from Marx Toy artist who designed it. "The guy said, 'Aren't you gonna open it and made sure Big Loo is in there?'" said Francis. "I said, 'Nope. This could be the only sealed Big Loo box in the world.'"
The museum fills a former grocery store; it keeps going and going, conveying the scope of the Marx empire. There's a model train room, a prototype room, a gas station and truck room, a western room whose swinging doors are a full-size replicas of the doors in Marx's miniature Dodge City. Large glass cases display a history of the world, from the Stone Age to the Space Age, in plastic play sets.
Always a buccaneer, Louis Marx would promptly enrich the market with a toy shadowing a hit TV show or the success of another company. His answer to Hasbro's GI Joe, with his finely engineered ball joints and internal ligaments, was the same-sized "Stony," a blockhead of a soldier with simple hinge joints, his uniform plastic-fused to his body. But Stony was sturdy enough to beat any GI Joe to death in the sandbox.
In its prime, Marx cranked out more toys than anyone, the majority of them in a factory only a five-minute drive from the museum. Louis was "The Toy King" and moved in elite social circles. The museum has a photo of him and Richard Nixon at a baseball game, and a plastic figurine of the Prime Minister of England that Louis had made as a gift when he had him over for dinner, and an action figure of Louis' long-time friend President Eisenhower (Ike responded by painting an oil portrait of Louis).
Marx advertised its vast selection of toys with the teasing question, "Have you all of them?" Francis the collector had an answer for that. "It's impossible to get them all," he said. The company made 400 different dollhouses, 50 different castle sets, 300 different farm sets, and the deluxe versions of those sets each contained hundreds of unique pieces.
"Nobody can get them all," said Francis. "Not even me."
Marx Toy Co. Making Memories in Glen Dale
By Cheryl Harshman  •  Photographs by Michael Keller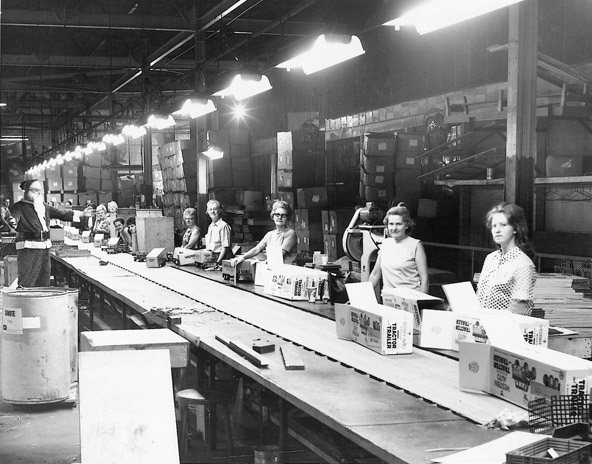 Sometimes, the smallest thing can trigger long-forgotten childhood memories — like a favorite toy, for instance. Do you remember the Big Wheel cycle? Rock'em Sock'em Robots? How about Johnny West? Did you have a doll house? A gas station or a Fort Apache play set? Do you remember poring over the Christmas wish-book catalog when it came each year? If you answer "yes" to any of these questions, chances are that you owned, or wished you had owned, one of the many Marx toys made here in West Virginia.
At one time, Marx toys was the largest toy manufacturer in the world. At the heart of the Marx enterprise was the largest of its three domestic toy factories, the mammoth Glen Dale plant. In its heyday, the Glen Dale facility employed more than 2,000 workers and had multiple buildings in Glen Dale and McMechen, both located in Marshall County.
In 1946, the Glen Dale factory's automatic paint line dipped and baked approximately 3.5 million toys per month. That was just one line, and that was before plastic toys began production. Ten years later, production figures of plastic toys and toy parts were in the millions per day.
You can read the rest of this article in this issue of Goldenseal, available in bookstores, libraries or direct from Goldenseal.
Museum's End Means a Fresh Start for Marx Toy Artifacts
The museum, which Turner began with his personal toy collection in 2001, will open its doors to the public for the last time from 11 a.m. to 5 p.m. Thursday. Turner's mission began in 1998, when he purchased a 1950s  grocery store building on Second Street and spent the next two years remodeling the building.In 2011, Turner  registered the museum as a nonprofit organization complete with a board of directors. Later in the year, the Marx Toy Museum took over operation of The Official Marx Toy Museum of Glen Dale.

Following the public closing of the museum, Turner plans to have the toys displayed in various museums throughout the country. He added five unnamed museums have shown interest in the toys. "You could say we're closing down, but I look at it as expanding," Turner said. "One of the museums that we talked to, they have 1,000 people a day. So if our toys are there for 90 days, 90,000 people will see it. It would take 90,000 people 30 years to see it in Moundsville."

Mickey Massey, a part-time employee at the museum, has many fond memories of the place. "When I taught at Glen Dale Elementary, I would bring my school kids here for a school trip, and when I retired I was interested in being an extra employee," Massey said. "This will be a big loss. With the factory being in Glen Dale a mile and a half up the road, everyone has a story about a Marx toy, whether they had one, their parents had one or there was one in their grandma's attic."

Michael Burk, a bus tour guide for the museum, said the facility kept childhood memories alive for many locals during its run in town. "As the sign says, it's provided a walk down memory lane," Burk said. "They've inspired so many visions and memories with the toys they provided for us. The toys we used to have are now treasures."

Adreanne Rodgers of Cambridge visited the museum Friday. She said she wanted to stop before it closes. "It's absolutely fabulous to me that one person could collect all these toys," Rodgers said. "I'm a toy collector, so I really appreciated the experience."